Ty Van Ryswyk landed in the St. Louis area in May of 1996 after graduating from the University of Northern Iowa. After years of hands-on training, Ty opened Hawkeye Irrigation, LLC in 2000. Hawkeye Systems has been installing and maintaining in-ground lawn sprinklers all throughout the St. Louis and Metro East areas. Ty's dedication to professional workmanship and customer satisfaction has taken Hawkeye Irrigation to the top of its industry.
Ty started looking into a personal insect misting system for his own home and ended up purchasing the company he was going to hire instead! He saw the potential of a company that could help people enjoy their own back yard all season long in addition to the benefits of offering a system that deters insects…and insect transported diseases. Hawkeye Insect Misting, LLC was formed in 2010. With the addition of the Cloudburst System, a temperature control system that uses high pressure misting to cool you off, Ty updated the company name to a simpler Hawkeye Misting, LLC.
Hawkeye Audio and Hawkeye Plumbing as added and the full spectrum of outdoor services moved the company towards a name change creating the Hawkeye Systems, LLC branding. Our relationships with Cloudburst, Univar and many others makes it possible for us to offer and install the best outdoor products in the industry. Clients and their guests deserve to be safe and comfortable while taking in the outdoors. Contact us so Ty can discuss your needs and wants, getting a system design and proposal based on your specifications.

Smartmist is a division of Cloudburst that focuses on the industrial applications of the high pressure misting systems. By focusing on the pre-cooling industry, the Smartmist System is a proven method for helping A/C units, refrigeration units, dry cooling units and even turbines run more efficiently. The innovative pre-cooling systems can save or generate legitimate dollar amounts for a company. These systems can easily have a return on investment that only takes days or weeks to accomplish. If your cooling unit isn't keeping up or costs an arm and a leg to operate, you owe it to yourself to contact Hawkeye Misting, LLC.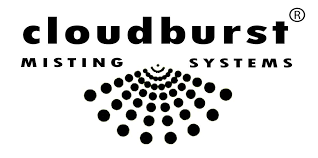 Cloudburst has been a leader in the world of high pressure misting systems since it was founded in 1994. Multiple patents and system design applications have earned Cloudburst a solid reputation throughout the industry. Cloudburst products have been showcased in many ways at nationwide including the 1996 Summer Olympics in Atlanta, NASCAR, Six Flags parks, Jamarat Bridge and many others around the world.