We create amazing solutions to enjoy and improve your outdoor spaces
Irrigation System Residential & Commercial - Installation and Maintenance
Irrigation System Residential & Commercial - Edwardsville, Belleville Illinois
Hawkeye is the home of top-quality workmanship and professionally installed Irrigation Systems residential & commercial in Edwardsville, Illinois and Irrigation Systems in Belleville, Illinois. We also provide our maintenance and installation services throughout Central & Southern Illinois as well as the Metropolitan St. Louis area. We're prepared to help you with any and all of your lawn sprinkler needs; whether you need a simple leak repaired or installation of a complete lawn sprinkler system for your home or business.
Our company installs and maintains quality irrigation systems with the customer in mind. Our innovative procedures and quality products make us a leader in the lawn sprinkler industry. We'll get your system neatly installed to help keep your lawn green during the day, make your home shine at night and ensure it all works as it should for years to come. In addition, Hawkeye also provides a wide variety of services to suit the needs of your home, such as Insect Misting System Installation, Landscape Lighting, Trenching, Boring and Pipe/Wire Pulling.
Contact us today for more information about the various services that we offer and get a free estimate for your residential or commercial lawn irrigation needs. We appreciate your business and look forward to hearing from you!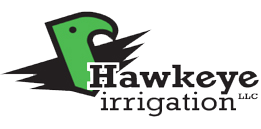 We are the area's largest professional installer of Lawn Sprinkler Systems in Belleville, Illinois and would be more than happy to travel to the location of your home or business to discuss your needs. Whether you have a large, medium or small sized lawn/garden, Hawkeye specializes in both commercial and residential systems that are guaranteed to do the job right for any of your irrigation needs, with no job too big or too small.
Our specialists are fully licensed and can typically complete the installation of your system within 1 day. All of our installed systems include a full two-year warranty on all labor & parts and are fully tested upon completion of the installation process. Once complete, we will provide you with an instructional video along with information related to the general maintenance of your system as well as the specifications. We will be on call in the event that you have any questions about your lawn sprinkler system or if you should need any emergency repairs or maintenance.
Your business is very important to us and we place tremendous value on professional customer service as well as high-quality irrigation and lawn sprinkler system installation. If you live in or near the area and are in need of a professional Lawn Sprinkler System in Belleville Illinois, please don't hesitate to Contact Hawkeye Irrigation today!
A member of our trained staff will be happy to answer any questions you may have and can schedule an appointment with you for us to review your needs and provide you with an estimate.
Our full service installation includes the following:
Proper locating of all in-ground utilities.
Handling of potable water connections by a licensed plumber.
Testing and certification of sprinkler backflow preventer.
Full system installation completed within one-day.
Our crew will arrive in the morning and complete the job by early afternoon.
This will be dependent on the size of the sprinkler system and access to the house during the installation process.
We will provide a complete overview and tutorial of your system once installation is complete.
We also provide a video with detailing instructions on how to maintenance your system and it's layout specs.
Your system includes a full 2-year warranty on all parts and labor.